CityMaaS is a web platform that uses machine learning to help disabled people access information and get around town efficiently and safely. It provides advanced web services and personalised travel assistance tailored to individual disabilities, and the assistance needed. An intelligent algorithm using machine learning at the back-end continuously learns users' travel behaviour so as to provide optimal options to users, in real-time. They have been named one of the top EU startups and have received EU funding, and are backed by the UK Department for Transport. CityMaaS' vision is to advance the way the disabled community has access to and receives data, information and services.
Co-founded by husband and wife team Rene and Andy Perkins, CityMaaS have built a team of experts around a core vision that fuels innovation and change around digital inclusivity and accessibility in a sector that they think has been mainly sidelined. CityMaaS has two core products: Assist Me and Mobility Map.
"As a Disability-Confident Employer, CityMaaS not only champions an inclusive world, it epitomises a vision of equality" (Co-Founder Rene Perkins, pictured).
Assist Me is a clever tool that allows website owners the ability to offer advanced disability assistance levels to anybody that would have trouble accessing a particular site's content. The Mobility Map enables businesses to access often-hidden disabled communities via CityMaaS' map and audience which unlocks the doors to a market worth £249B, sometimes referred to as the 'Purple Pound'. And conversely, the Map allows people with disabilities the ability to plan their journeys without the worry and stress about poor accessibility – something most of us never have to worry about.
"Assist Me gives control to the visitor of your website so all can be included. As the world continues to move online and the ageing population grows, many users are missing out on digital products and services. Assist Me allows you to connect with them" explains Perkins.
"Mobility Map enables the business community to be inclusive and easily searchable by the disabled community as well as their friends and families. Our machine learning algorithm and gamification inspired by Game of Thrones empower the communities to crowdsource and validate relevant accessibility information, which will benefit millions in the world. Users can find out accessibility info and relevant travel information before they travel" she adds.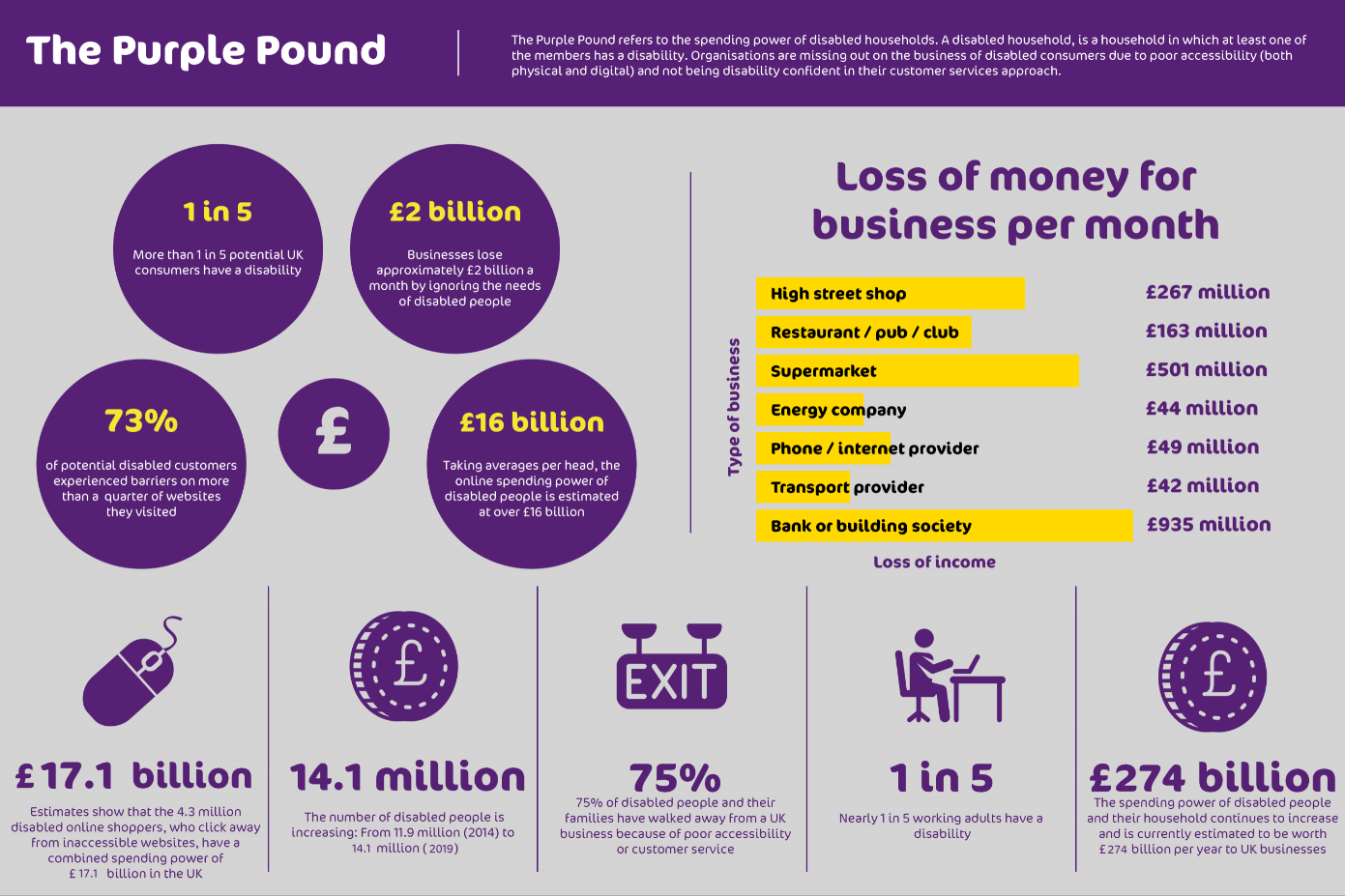 A particularly interesting and compelling user case of CityMaaS' technology comes when you consider a large but obvious hole in the housing market, its provision, and the marketing.
The Hidden Housing Market
Where CityMaaS' technology opens up a significant new market is in real estate where CityMaaS has been working with companies and agents to help disabled people find, buy and rent suitable properties. The technology allows real estate companies to provide detailed essential accessibility information both of the dwelling but also of the surrounding area. It is obvious for instance that wheelchair users will need very specific types of property, very specific access to vehicles, very specific types of parking for those vehicles, local streets and pavements that are wheelchair friendly, and easily accessible public transport.
One million households that have a need for accessible housing are already owner-occupiers and of these some 230,000 are of working age. Significant numbers of people with needs for accessible features also have the means to consider the purchase of a home. Amongst households with an identified need for accessible housing, 39% (700,000) have incomes in the top half of the income distribution of the population as a whole. In addition, 55% of owner-occupiers living in a household including a disabled person and 33% of working-age households containing a disabled person have incomes above this level.
However, there is already a shortage of accessible housing in the UK and time after time housebuilding targets have not been met. 360,000 households containing a disabled person have savings of £12,000 or more. 1 in 4 households needing accessible housing (480,000) have incomes above the median income after housing costs of all owner-occupier households (£448 per week). Disabled people are significantly more likely to be dissatisfied with their current home than non-disabled people. 14% say they are dissatisfied compared to 8% of non-disabled people. Satisfaction levels are lowest among disabled people under 45 and those currently renting from a private landlord.
Needing to Move House
A majority of the public would like to change something about their home, most commonly achieving more space or more rooms, gardens or parking. Disabled people are more likely to mention an internal change to their home, most commonly addition of or improvements to a downstairs toilet or bathroom. Talking directly with people with a need for accessible features in their home, LSE research found that some people choose to cope as best they can without seeking to make changes; some pay for adaptations themselves and some consider a change of tenure their best option.
​Whilst some would consider a house move to address their access needs, changing tenure or moving house would be more likely as part of a wider life change such as family expansion or downsizing at retirement. In this sense, the market for accessible homes mirrors the market in general. However, older people or those who are carers are more likely than the general population to think of moving.
​What distinguishes this market segment is their specific requirements for features that allow them to buy, with confidence, a home that will meet their needs in the future. Many also found the proximity of family and friends in their support network an essential factor in the choice of location. ​
​IPSOS MORI's study found that the public does acknowledge their potential future need for accessible housing features to some degree. The majority (59%) of disabled people who are 65 and over say that they will need accessible housing features in the next five years, with 46% of all disabled people and 20% of the general public saying the same. ​Of people with caring responsibilities, 47% say that the person they care for will need accessible housing features within the next five years or so.
​A More Accessible Future
The growing number of disabled people, queues of first-time buyers and not least our increasing population of older people demand that we pay attention to the way that our new homes are designed and demonstrate a clear market for homes. Not to address this now, as the UK ramps up its house-building efforts, risks replacing one housing crisis with a different one in years to come.
Research suggests that ​developers and their marketing teams should look again at their target markets and products. Are they missing out on the significant market of people that have or anticipate having needs for accessible features in their home and have financial means to buy? Is there an opportunity to deliver more of what the public like by providing more homes with inclusive features such as downstairs bathrooms and level entrances?
​Developers, planners, and health and social care commissioners should take note of the overwhelming desire of the general public to maintain independence in mainstream housing as they age and/ or develop needs for care and support. We need to ensure that the homes of the future enable people to age in place, or have a genuine choice to move to a home that is designed and built to support their ongoing independence not only for the sake of the household but minimise public spending on the alternative.
Opportunity Knocks
Rene Perkins: "We have the technology to change the world and have the platform to reach the top. To be at the forefront of world change is a very exciting prospect. To be the leading company in a sector that elevates businesses into a market worth £274B whilst promoting a social cause is a dream come true. In the past, people have had to choose profits or a social cause. We believe we can do both, in fact, the £274B market is already there waiting for the businesses, our products bridge the gap. We do this through cutting edge technology and a lot of hard work".
For more info and demos, go to citymaas.io
https://www.bbc.co.uk/news/av/business-39040760
https://www.visitbritain.org/business-advice/value-purple-pound
https://www.barclayscorporate.com/insights/industry-expertise/unlock-the-purple-pound/